– SUBMISSION TO THE WILL & WORD OF GOD IS THE KEY WITHOUT THIS IT'S ALL T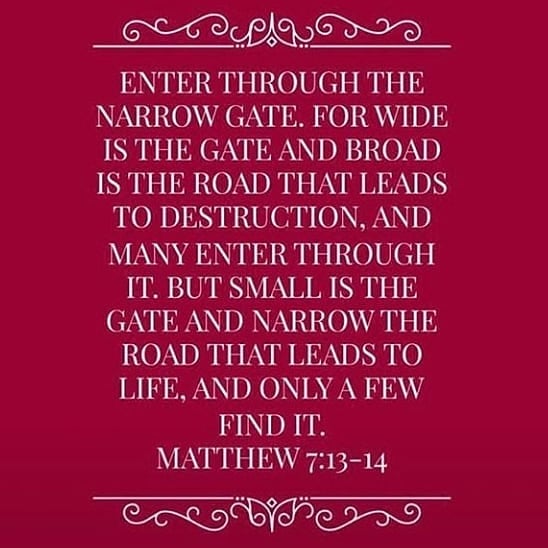 @banningmike32 @download.ins
—
SUBMISSION TO THE WILL & WORD OF GOD IS THE KEY 🔑
WITHOUT THIS IT'S ALL TALK NO WALK.
WITHOUT THIS THE SPIRIT OF GOD CANNOT NOT INDWELL YOU.
FREE WILL. YOU MUST DECIDE TO STEP BACK. TO LOWER YOURSELF & GLORIFY GOD.
IT'S THE SUBMISSION TO GOD MAN HAS THE MOST DIFFICULTY WITH.
MAN WANTS TO DO WHAT MAN WANTS TO DO FOR HIS PHYSICAL UNDERSTANDING & FOR THE CARNAL DESIRES OF HIS FLESH.
HAVING NO SPIRITUAL SIGHT 👀 APART FROM THE CREATOR.
NOT WHAT YOUR FATHER OUR FATHER IN HEAVEN WANTS.
AT THIS MANY MANY WHOM THINK & CLAIM THEY ARE CHRISTIAN WILL FALL.
Many will come in that Day & say Lord! Lord! did we not Profess in Your Name?
Verily I KNOW THEE NOT will be His Answer.
WORST THING THAT CAN EVER HAPPEN!!!
SUBMIT TO THE CREATOR TO YOUR FATHER TO HIS SON JESUS CHRIST WHOM ALL AUTHORITY HAS BEEN GIVEN.
FOR THE WISDOM & INSTRUCTION OF GOD IS TO PROTECT YOU FROM THIS WORLD!!!
OUT OF LOVE!!!
DO NOT SPURN YOUR CREATOR YOUR FATHERS TEACHINGS.
FOR AS YOUR CHILD SPURNS YOUR CORRECTION?
YOU DO THIS AT YOUR OWN PERIL!
THEREFORE RECONCILE THE INSTRUCTION OF YOUR FATHER THE ONE TRUE ALMIGHTY GOD CREATOR OF HEAVEN & EARTH.
SAVE YOUR SOULS TO HIS SON OUR KING 👑 & SAVIOR JESUS CHRIST!!!
(Romans 10:9)
DO SO IN SUBMISSION.
IN KEEPING WITH THE FRUIT OF REPENTANCE.
FOR THE END IS AT HAND.
THE 70TH WEEK OF DANIEL THE TRIBULATION IS UPON THIS WICKED WORLD.
WE ARE LIVING IN REVELATION!
ONLY THE GODLESS WILL BE LEFT BEHIND!
30 SECOND WARNING!
🚨🚨🚨
HE WHO HAS EARS 👂 LET THEM HEAR MY CRY!!! 🗣
#Repost @banningmike32 @download.ins
—
SUBMISSION TO THE WILL & WORD OF GOD IS THE KEY 🔑

WITHOUT THIS IT'S ALL TALK NO WALK.

WITHOUT THIS THE SPIRIT OF GOD CANNOT NOT INDWELL YOU.

FREE WILL. YOU MUST DECIDE TO STEP BACK. TO LOWER YOURSELF & GLORIFY GOD.

IT'S THE SUBMISSION TO GOD MAN HAS THE MOST DIFFICULTY WITH.

MAN WANTS TO DO WHAT MAN WANTS TO DO FOR HIS PHYSICAL UNDERSTANDING & FOR THE CARNAL DESIRES OF HIS FLESH.

HAVING NO SPIRITUAL SIGHT 👀 APART FROM THE CREATOR.

NOT WHAT YOUR FATHER OUR FATHER IN HEAVEN WANTS.

AT THIS MANY MANY WHOM THINK & CLAIM THEY ARE CHRISTIAN WILL FALL.

Many will come in that Day & say Lord! Lord! did we not Profess in Your Name?
Verily I KNOW THEE NOT will be His Answer.

WORST THING THAT CAN EVER HAPPEN!!!

SUBMIT TO THE CREATOR TO YOUR FATHER TO HIS SON JESUS CHRIST WHOM ALL AUTHORITY HAS BEEN GIVEN.

FOR THE WISDOM & INSTRUCTION OF GOD IS TO PROTECT YOU FROM THIS WORLD!!!

OUT OF LOVE!!!

DO NOT SPURN YOUR CREATOR YOUR FATHERS TEACHINGS.

FOR AS YOUR CHILD SPURNS YOUR CORRECTION?

YOU DO THIS AT YOUR OWN PERIL!

THEREFORE RECONCILE THE INSTRUCTION OF YOUR FATHER THE ONE TRUE ALMIGHTY GOD CREATOR OF HEAVEN & EARTH.

SAVE YOUR SOULS TO HIS SON OUR KING 👑 & SAVIOR JESUS CHRIST!!!
(Romans 10:9)

DO SO IN SUBMISSION.
IN KEEPING WITH THE FRUIT OF REPENTANCE.

FOR THE END IS AT HAND.

THE 70TH WEEK OF DANIEL THE TRIBULATION IS UPON THIS WICKED WORLD.

WE ARE LIVING IN REVELATION!

ONLY THE GODLESS WILL BE LEFT BEHIND!

30 SECOND WARNING!
🚨🚨🚨

HE WHO HAS EARS 👂 LET THEM HEAR MY CRY!!! 🗣
Source